Family Coaching
Family Coaching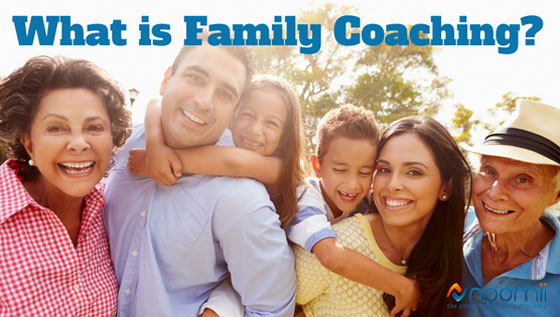 What is Family Coaching?
Family coaching is a process where one or more members of a family partners with a coach to address goals that will ultimately improve their family dynamics. Family dynamics are the interactions between family members, how they relate to one another and how the family functions as a whole.
There are family coaches that specialize in improving a family's dynamics, while others may focus on helping teens and children, assisting with parenting needs (sometimes referred to as a parenting coach) and those that work with the entire family together. Every family has their own group dynamics and unique structures, whether it's a traditional family with two parents (also known as a nuclear family), a single-parent family, a step-family, an extended family, a one-child family, an adopted family or a family with same-sex parents, there is a family coach that can help.
One of the most important things to consider in family coaching are the needs and wants of each of the family members, so as to better facilitate the coaching process.
Often times, families need help, just like a smaller organization. They need to communicate about their shared values, beliefs and goals and see where they are aligned and where they may be out of sync. There are all sorts of tools that a coach can use to help families leverage their strengths as well as help decrease the noise in what may hold each person back from achieving their goals.
What Do Family Coaches Help With?
Family coaches help families and individuals identify their various values, wants, needs and goals and helps the members come up with strategies to reach these goals as well as keep them accountable.
Coaches work on leveraging the strengths of individuals and groups as well as call attention to areas where they have room for improvement to help make forward progress.
Some common areas family coaches help with:
New parent challenges
Marriage challenges
Communication
Parenting issues for different stages, such as separation anxiety, depression or discipline
Blended family issues
Teen pregnancy
School dropout prevention
Anger or stress management
What Are The Benefits of Family Coaching?
Think of the family as its own organization. It often requires work to grow as individuals and situations change.
Some of the things that can be addressed are the following:
Empowerment of all members within the family
Improved communication
Stronger relationships
Increased respect
Increased confidence
Increased balance
Improved ability to make decisions
Improved time management
Improved peace
Improved day-to-day living
Conflict resolution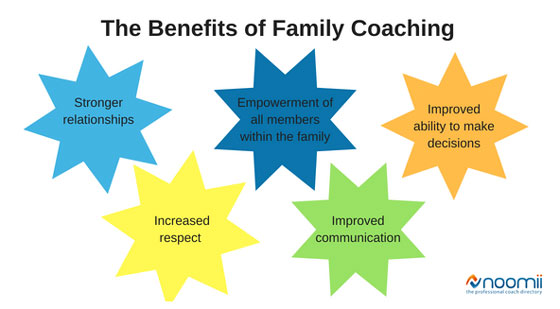 How Does Family Coaching Work?
There's no one size fits all approach to family coaching. Each family has their own starting point as well as their own goals and values that they want to work toward.
A family coach is a partner/sounding board/neutral 3rd party that helps the family and/or individuals identify their goals and help establish new routines and behaviors that help the family achieve positive change as well as continue to get on-going results.
It's important to evaluate and improve on what works to improve over time in order to help facilitate positive outcomes.
Coaches use different approaches and tools when working with their clients. Some approaches include 360 reviews, Client Surveys, Satisfaction Scales, Strengths Finder, etc.
What is the Difference Between Family Coaching and Therapy?
Family coaching is not therapy. Coaching is a unique partnership that helps clients identify goals and obstacles that keep people from moving forward as well as behaviors that get in the way.
A coach helps clients create action plans to achieve desired goals/results.
Life coaches do not diagnose problems or determine illnesses. They focus less on the past and more on who and where the client(s) are right now, to help them determine where they want to go. Therapists tend to focus more on past behaviors and how they have impacted current situations - the WHY, so to speak. Family coaches will focus on the present and work more on helping the client move toward a goal - the HOW, so to speak.
When it comes to family coaching, the client and their family's starting point is what it is—there is no judgment as to whether this place is good, bad; right or wrong. Family coaching is about helping clients figure out what they want, what is keeping them from getting there and how to get there.
Of course, there are similarities between family coaching and therapy—both help clients make positive changes in their lives and there is a time and a place for each discipline. If appropriate, coaches will refer clients to therapists.
How Long is The Family Coaching Process?
Every coach and family has a different process that works for them. When shopping for a family coach, make sure their process works well with your family's routine and needs.
Most coaches will offer a free consultation prior to signing you up for paid sessions, so you can better understand their approach and see if they are a good fit for you and your family.
While some family coaches may have specific programs that are three to six months long (or longer), many coaches are willing to offer as many, or as few, coaching sessions as it takes to reach the goals set by the individual or family. They will also work with you to figure out the frequency of sessions that will work best for your situation.
Part of the coach's job is to help you identify what works well for you and your family members and what doesn't.
How Much Does Family Coaching Cost?
When it comes to the cost of hiring a coach, the simple answer is: it depends. It depends on how long you hire the coach, how many coaching sessions you have, and the hourly rate of the coach.
Most family coaches charge rates that are comparable to other helping professionals, such as physiotherapists, massage therapists, and acupuncturists, but there is more variability because the life coaching industry is less regulated. We'll explain that in more detail below.
Here are three things to consider:
1. Family coach hourly rates vary
As mentioned earlier, coaches charge rates similar to other helping professionals. Most coaches charge somewhere between $75 and $200 per hour. However, you can find coaches who fall outside of that range.
2. Family coaches frequently offer monthly packages
You can get some value from a single life coaching session but the real benefit of hiring a coach is experienced through an ongoing relationship aimed at achieving your goals. To support their clients in a variety of ways over time, many coaches offer comprehensive monthly packages. Here is a checklist of some of the offerings coaches will include in their monthly coaching packages:
scheduled one-on-one coaching sessions,
email and text messaging support,
between-session "homework",
impromptu calls as needed,
personality assessments and debriefings
online tools such as journalling, goal tracking, or accountability software
Monthly packages will generally range somewhere between $200 and $750 per month.
3. Some life coaches ask for a long-term commitment
A family coach can help you improve your life but you still need to take responsibility for the changes you want to make. They aren't going to do the work for you. For that reason, some coaches ask for a three, six, or 12-month commitment. Before they invest the time and energy into working with you, they want to know that you are committed to improving.
How Do I Find the Right Family Coach?
It is really important to find the right fit. Spend the time interviewing coaches and visiting their websites to help you determine what works for you. Most family coaches offer a free consultation to help you determine that the person is a good fit for your family and/or individual family members.
Some of the things to look for in a coach are neutrality, intuition, effective listening, compassion and non-judgment.
If you're fairly sure about what you're looking for in a coach, Noomii has hundreds of family coaches from dozens of cities around the world. However, if you're not sure exactly who you should be coaching with, you can request a coach through our Referral Program.
This is a post written by family coach Mara Heichman.