Entrepreneurship Coaching
Entrepreneurship Coaching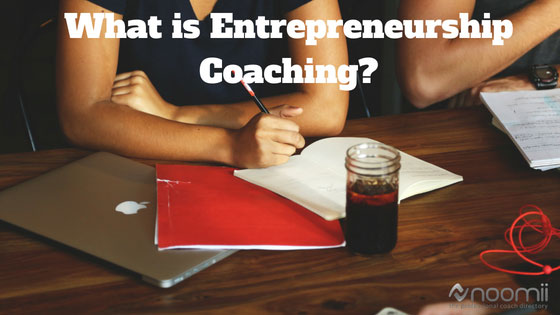 What is Entrepreneurship Coaching?
Entrepreneurs do not need to surround themselves with "yes men." They need coaches who will hold them accountable and reveal the ugly truths about starting a business. Entrepreneurship coaches specialize in walking the line between being a cheerleader and a harsh realist, pushing the business owner to new heights that are sometimes uncomfortable but are necessary to grow and scale the business.
Too often an entrepreneur's social and business circle is filled with people who sing their praises. These people are generally uncomfortable being critical for fear of bursting the entrepreneur's bubble. The best entrepreneurship coaches know that bursting that bubble is a critical part of the journey and the only way to build a greater, more effective bubble beyond the wildest dreams of the business owner.
Being an entrepreneur is not for the faint of heart. There is plenty of uncertainty, anxiety and loneliness in breaking free from the 9 - 5 and working for oneself. An entrepreneurship coach is sensitive to these hurdles because they have gone through them themselves, but they also know what's on the other side.
Here at Noomii, we help both individuals and corporations get matched with their ideal coach(es). Scroll to the bottom of this page to either browse our directory of entrepreneurship coaches by zip code or let us help you find the perfect coach by filling out a personalized coach recommendation.
What do Entrepreneurship Coaches Help With?
The job of an entrepreneurship coach is to push the individual to sometimes uncomfortable new levels while still giving them the support and encouragement to succeed.
The best entrepreneurship coaches will:
Push individuals out of their comfort zones
Hold individuals accountable to the deadlines they have set for themselves
Share advice, hacks and valuable life lessons
Offer the resources needed to move business along at a brisk pace
Help the individual navigate any bottlenecks or rough patches
Provide praise when a milestone is achieved, giving the individual a boost to keep wanting to hit more goals
Identify potential problems ahead of time so they can be neutralized or minimized
Make sure all objectives are growth driven so the individual starts seeing results quickly
Stick with the individual through thick and thin and seeking outside advice if the scope of the problem is beyond the coach's wheelhouse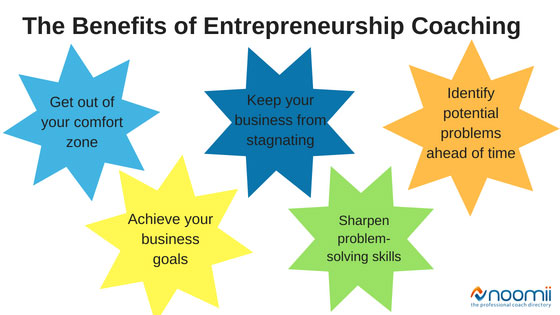 What are the Benefits of Entrepreneurship Coaching?
Entrepreneurship coaches keep individuals on their toes and make sure that they are hitting the important goals they need to achieve in order to realize success. These coaches keep entrepreneurs from stagnating. The last thing that an entrepreneur needs is to find themselves in exactly the same spot in six months. Entrepreneurship coaches move the process along so individuals can see results and also provide good insights into what the future holds. An entrepreneurship coach's sole job is to get the entrepreneur where they want and need to be.
There are many things that entrepreneurs who are just starting off do not know. They're just not on the radar, because the individual has not experienced them directly. Entrepreneurial coaches put all the puzzle pieces together and help each individual business owner see and appreciate the bigger picture. The process is every bit as important as the end result. Entrepreneurial coaches guide entrepreneurs to discover the answers for themselves, leading them to sharpen their problem-solving skills and make better business decisions in the future.
How Does Entrepreneurship Coaching Work?
Once an entrepreneur has found the right entrepreneurship coach, the next step is to set up an initial call, where the individual will discuss the needs of their business and overall goals. The entrepreneurship coach will help break down the big goals into smaller chunks, called milestones and then set up deadlines for hitting those milestones.
The entrepreneurship coach and the entrepreneur will be in regular contact to make sure the goals are being met. During regular meetings, the individual and entrepreneurship coach will also discuss any concerns or problems that have arisen since the last call and look at ways to overcome those obstacles.
What is the Difference Between Entrepreneurship Coaching and Mentorship?
Mentors are valuable in the business realm, but they cannot take the place of an entrepreneurship coach. Mentors are more like helpful friends who can guide and give advice, but rarely ask tough questions or are overly critical. Individuals are also not as likely to meet with their mentors on a regular basis, and meetings are generally more casual and less structured. Entrepreneurship coaches are not there to be the entrepreneur's friend. They ask the tough questions and push for tangible results.
Entrepreneurship Coaching Articles:
How Long is the Entrepreneurial Coaching Process?
There is no set length of the entrepreneurial coach and entrepreneur relationship. Some coaching engagements span years, while others last a few months. Just like each entrepreneur is different, so is each relationship with a coach. The best way to determine the length or depth of an ideal relationship is for the individual to have a preliminary call with an entrepreneurial coach to find out more about their process, what packages they offer (if any) and how they can help you achieve your goals.
How Do I Find the Right Entrepreneurship Coach?
Not all entrepreneurship coaches are created equal. Individuals interested in this kind of coaching should look for entrepreneurial coaches that have experience in the startup world and a passion for helping others succeed. The best entrepreneurial coaches have a positive attitude mixed with a dash of tough love, are accessible and flexible, and have access to a wide array of resources that will help jump-start a business.
The Startup Expert has a number of seasoned entrepreneurial coaches that have experience helping entrepreneurs in a vast number of industries.
At Noomii, we make the process of finding the right entrepreneurship coach simple. You can browse through hundreds of entrepreneurship coaches in dozens of cities or request a personalized coach recommendation and they will find entrepreneurship coaches for you!
This post is written by entrepreneurship coach Bert Seither - The Startup Expert ®.