Adhd Coaching
ADHD Coaching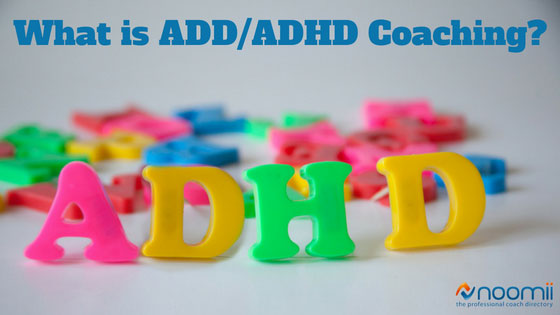 What is ADD/ADHD Coaching?
ADHD coaching differs from life coaching in that it is more structured and supportive. There is a higher level of accountability and check-ins are more frequent. While it is not the job of a coach to tell the ADHD client exactly how to do things – that would be too directive and border on enabling – the coach does encourage the client to think through steps towards success.
Check-ins are more frequent with ADHD clients and tend to form a structure to support the client while establishing habits that will lead him or her to accomplishing goals.
ADHD coaches empower the client to establish skills that will build success and ADHD clients come away from the coaching with a "toolbox of strategies" that they can use in the future. The aim of ADHD coaching is lasting change.
How Does ADD/ADHD Coaching Work?
Coaching is a partnership between the coach and the client to help the client accomplish the goals that s/he has set. ADHD coaching involves a combination of life coaching and ADHD coaching. ADHD Coaches use their knowledge of the neurobiology of ADHD and their knowledge of life coaching to help clients set goals, create accountability systems and overcome any obstacles that may arise during the goal-attainment process. An ADHD Coach also assists with skill development in areas such as social skills and day-to-day task management. ADHD Coaching focuses on the whole person and as such, there is also a focus on life issues.
ADHD Coaching is between the client and the coach. When working with youth, issues between the coach and the young person are completely confidential with the following exceptions: "Illegal activity, pursuant to a valid court order or subpoena; imminent risk of harm to self or others."
As agreed through the intake session, the coach can have periodic check-ins with parents to tell them if the client is following the coaching plan established. The young person can discuss details and content of coaching directly with the parents.
What Are The Benefits ADD/ADHD Coaching?
Working with an ADD/ADHD coach can offer you a ton of benefits, both in your personal and professional life.
Here are just a few of the benefits from ADHD Coaching:
Clarity
Confidence
Increased success at school (e.g. better grades, improved social interaction)
Increased success at work (e.g. more work done in less time, raises, promotions)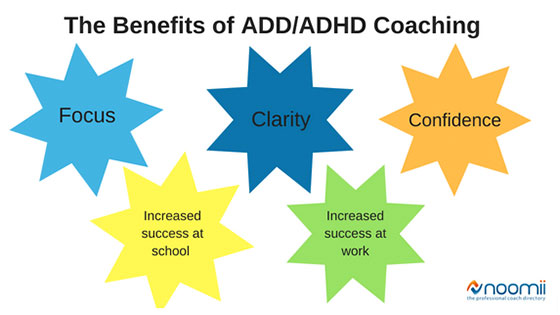 What is the Difference Between ADHD Coaching and Therapy?
Coaching is outside the mental health arena; although coaches can work with clients who have existing mental health conditions, they will only do so if the client is also working with a therapist. Therapists are professionals such as psychologist, psychiatrists and MSW level social workers who have studied pathology, unconscious dynamics and negative thoughts, where the focus is on healing and growing.
Coaches are trained professionals who are skilled at helping clients do things like set goals, action plans and accountability systems. Coaches also aid clients in increasing their level of awareness around issues that are important to them. For example, a coach may notice that every time a client sets out to accomplish a writing goal, he or she tends to procrastinate starting the writing task. A coach might explore that and see what is stopping the client from the task.
How Long is the ADD/ADHD Coaching Process?
Every ADD/ADHD coach will have a different structure to their coaching, but many will typically meet with their clients on a weekly basis for half an hour to an hour.
Depending on what works for the client, there is also typically one planned email or text check-in sometime during that week, which is initiated by the client, to update the coach on how that week's goals are going. The duration of the coaching process tends to vary depending on each client and his or her desired goals.
How Much Does ADD/ADHD Coaching Cost?
When it comes to the cost of hiring a coach, the simple answer is: it depends. It depends on how long you hire the coach, how many coaching sessions you have, and the hourly rate of the coach.
Most life coaches charge rates that are comparable to other helping professionals, such as physiotherapists, massage therapists, and acupuncturists, but there is more variability because the life coaching industry is less regulated. We'll explain that in more detail below.
Here are three things to consider:
1. ADD/ADHD coach hourly rates vary
As mentioned earlier, coaches charge rates similar to other helping professionals. Most ADD/ADHD coaches charge somewhere between $75 and $200 per hour. However, you can find coaches who fall outside of that range.
2. ADD/ADHD coaches frequently offer monthly packages
You can get some value from a single life coaching session but the real benefit of hiring a life coach is experienced through an on-going relationship aimed at achieving your goals. To support their clients in a variety of ways over time, many coaches offer comprehensive monthly packages. Here is a checklist of some of the offerings coaches will include in their monthly coaching packages:
scheduled one-on-one coaching sessions,
email and text messaging support,
between-session "homework",
impromptu calls as needed,
personality assessments and debriefings
online tools such as journalling, goal tracking, or accountability software
Monthly packages will generally range somewhere between $200 and $750 per month.
3. Some coaches ask for a long-term commitment
An ADD/ADHD coach can help you improve your life but you still need to take responsibility for the changes you want to make. They aren't going to do the work for you. For that reason, some coaches ask for a three, six, or 12-month commitment. Before they invest the time and energy into working with you, they want to know that you are committed to improving.
How Do I Find the Right ADD/ADHD Coach?
If you are looking to hire an ADD/ADHD coach, you want to do your research and set up consultations with a variety of coaches to see who is the best fit.
Of course, it's important to find a coach with the right training and experience to help you with your specific coaching needs. However, having a good connection with that person is even more crucial than their training. Because finding the right fit is so important, it's critical that you not just hire the first coach you talk to. Instead, we recommend you speak with at least 3 (ideally 4 or 5), to find the one who you're going to feel the most comfortable working with over a period of several months.
Almost all professional coaches offer a free 15 or 20 minute consultation to help you determine if they are the right coach for you.
If you're fairly sure about what you're looking for in a coach, Noomii has hundreds of ADD/ADHD coaches from dozens of cities around the world. However, if you're not sure exactly who you should be coaching with, you can request a coach through our Referral Program.
This post was written by ADD/ADHD coach Debra Payne, PhD, Professional Certified Coach.