Coaching Costs
Coaching Costs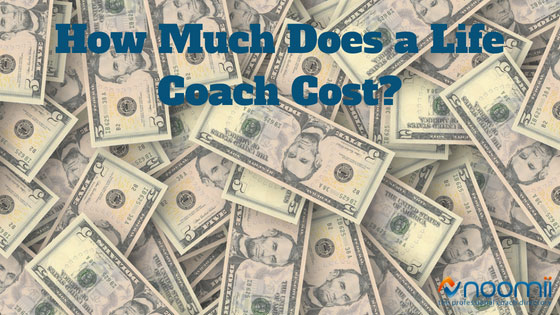 How much does a life coach cost?
We got a phone call the other day from an inquiring individual who was thinking about hiring a life coach. She cut to the chase and asked the question that was burning in her mind: "How much does a life coach cost?"
The simple answer is: it depends. It depends on how long the coaching engagement is, how many coaching sessions you have and the hourly rate of the coach.
Most life coaches charge rates that are comparable to other helping professionals, such as therapists, physiotherapists, massage therapists and acupuncturists, but there is more variability because the life coaching industry is less regulated. We'll explain that in more detail below.
To get a better understand how much a life coach is going to cost you, here are the three things you should consider:
1. Life coach hourly rates vary
As mentioned earlier, life coaches charge rates similar to other helping professionals. Most life coaches charge somewhere between $75 and $200 per hour. However, you can find coaches who fall outside of that range.
Since the life coaching industry is relatively new compared to some of the other wellness modalities, the life coaching regulatory bodies don't have complete authority over who can or can't call themselves a life coach. For that reason, you can find beginner coaches who will charge little to no money during their certification period, and other more senior coaches who will charge many hundreds of dollars per hour. But you can generally expect that a life coach will base their rates on their training and years of experience.
Some life coaches also offer a sliding scale or will keep one or two spots open for low income clients.
Please note that the hourly rate of a business coach or executive coach can be much more than that of a life coach.
2. Life coaches frequently offer monthly packages
You can get some value from a single life coaching session but the real benefit of hiring a life coach is experienced through an on-going relationship aimed at achieving your goals. To support their clients in a variety of ways over time, many coaches offer comprehensive monthly packages.
Here is a checklist of some of the offerings coaches will include in their monthly coaching packages:
scheduled one-on-one coaching sessions
email and text messaging support
between-session "homework"
in-promptu calls as needed
personality assessments and debriefings
on-line tools such as journalling, goal tracking, or accountability software
Monthly packages will generally range somewhere between $200 and $750 per month
3. Some life coaches ask for a long-term commitment
A life coach can help you improve your life but you still need to take responsibility for the changes you want to make. They aren't going to do the work for you. For that reason, some coaches ask for a three, six, or 12-month commitment. Before they invest the time and energy into working with you, they want to know that you are committed to improving.
Beyond gauging your level of commitment, the length of your coaching engagement (and the resulting cost) also depends on what issues you are facing in your life. Some issues can be solved quickly. Other issues need more time. Here are a couple real-life examples to give you an idea of how long you may want to hire a coach.
Jim came to us recently because he was looking for some accountability and support for his work as an independent professional. He had had some big family issues arise and since he worked from home most days, he found it hard to get motivated and to remain focused on his work. He found himself wasting time until deadlines were looming. His procrastinating ways caused him stress and a loss of revenue.
Since Jim had previously had good working habits, he knew he needed someone to help him establish new routines and to deal with his family issues in a more constructive way. Within two months, his productivity was restored and his revenue increased by 30%.
Meanwhile, Nancy came to us shortly after getting divorced. She ended up working with a coach for over 12 months because the correction that she wanted in her life was less immediate. At first, she leaned on her coach for support and encouragement through the emotional turmoil of the separation. Then she worked with her coach to create her life after divorce: learning how to communicate with her ex, deal with the kids, gain financial independence, and more.
In some cases, clients get great results in 3 or 4 weeks. In other cases, it takes many months for total life transformation to occur. What camp are you in?
One last word of caution when considering the cost of a life coach
Like anything else, you should invest your money wisely but don't base your choice of life coach solely on the cost. Make sure you find a coach that is a good fit and has the training and experience to move you forward in your life.
The money you invest with a life coach should be well worth it.
This article was written by Stephan Wiedner, co-founder and "Head Coach" at Noomii.com.