How To Choose A Life Coach
How to Choose a Life Coach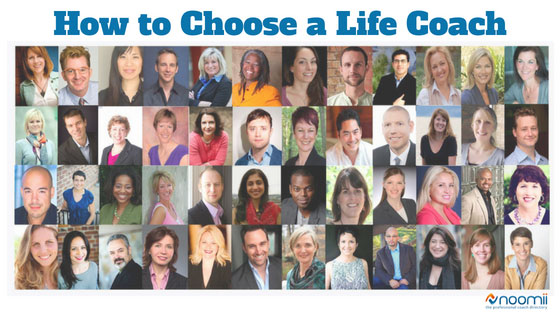 For the average person who doesn't spend their spare time researching the life coaching industry (which is pretty much everyone), knowing how to choose a life coach can be tough.
Here at Noomii, we like to think of ourselves as the eHarmony of life coaching. We use our "matchmaking" skills to make recommendations to individuals seeking guidance and support from a professional, whether it be a life coach, business coach, career coach, relationship coach, executive coach or health and fitness coach - we've got thousands of coaches across the world that specialize in almost everything.
The right life coach for each person is often obvious to us because we eat and breathe coaching all day, every day. So here are some guidelines for you to follow.
Guidelines to choosing the best life coach for yourself
1. Find a life coach that specializes in your area of need
Most people hire a life coach when something in their life is not going well. It could be that your life is lacking meaning and purpose, your career path is not going in the right direction, or maybe you want help managing your ADHD. Whatever the case is, you want to find a life coach that specializes in the thing that you want to improve.
2. Look for life coaches with proper training
Unlike other professions such as law or architecture, the life coaching industry is fairly new and less established. As a result, anybody can call themselves a life coach even though they may have no training whatsoever.
Therefore you should look for a life coach with adequate training. There are a ton of differect coach training schools out there that offer various levels of training and certification. Most of the life coach training organizations out there offer two levels of service:
An introductory weekend course
A certification program that generally takes a year or more to complete
Unless you have severe budget constraints, you want to hire someone who completed more than a weekend course.
At Noomii, we make it easy for you by verifying all life coaches that have a credential with the International Coach Federation, the largest governing body of the life coaching industry. Once verified, we display the ACC, PCC, or MCC credential on the profile of the coach (see the image below).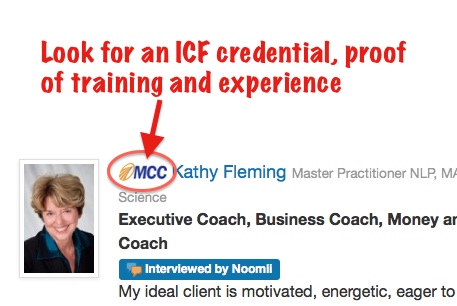 We also have a comprehensive directory of coach training schools, so coaches can display the institute they trained at on their profile as well.
3. Choose a life coach that "gets you"
Choosing a life coach is a personal matter. You are seeking help to improve the most important parts of your life. It's not like you are getting your oil changed or buying a new pair of shoes.
When you choose a life coach, you want to look beyond the surface impression. You can only derive so much information from a life coach's online bio or website. If you are browsing for life coaches on Noomii, listen to their audio interview to hear their voice and learn more about them. We've recorded five-minute interviews with most of our life coaches.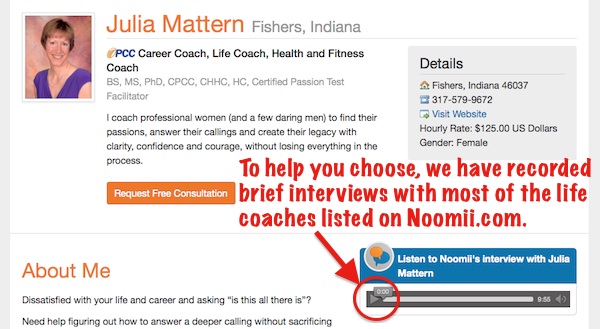 Additionally, have a conversation with at least two or three life coaches (all of our life coaches offer a free consultation) and choose the one that is the right fit. Choose the life coach that:
can relate to your situation
understands what your goals are
shares similar values as you
gives you the confidence that they can assist you in moving forward
4. Choose a local coach (or not)
Finding a local life coach and meeting with them in person can certainly help to establish trust and rapport, but it's not absolutely necessary.
A lot of people look for a life coach the same way they would look for a dentist, doctor or massage therapist, all of which are services that require in-person meetings. Life coaching is different because it's a conversation-based service that doesn't require you to be in the physical presence of the life coach. No life coach will look at your teeth, take your blood pressure, or loosen up the knots in your shoulders (although that would be a nice bonus!).
Roughly 60% of life coaching is done on the phone or video chat. Some life coaches even conduct their sessions over the phone with local clients because it's more convenient for both parties. What's more, many clients have said they prefer to speak over the phone, as it allows them to open up more and feel less vulnerable.
If you choose a local life coach, make sure they specializes in your area of need, have proper training and are otherwise a good fit. Don't choose a life coach just because they live and work a few blocks from you.
5. Choose a life coach that fits within your budget
Hiring a life coach is an investment into your future success but you don't want to break the bank either. Choose the life coach that offers fees that are within your budget. Make sure you ask about rates as well as how long the coaching engagement will be.
If you're not sure how much it costs to hire a life coach, I go into greater detail in this article.
This article was written by Stephan Wiedner, co-founder and "Head Coach" at Noomii.com.