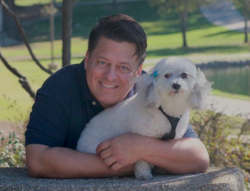 Brent Scarpo

Palm Springs, California
Life Coach, Career Coach, Relationship Coach
BA, Snow Life Coaching Program, Pryor Solutions Corporate Trainer Graduate, JVP Spiritual Life Coaching Graduate, Grief Counselor
Millennial Expert, College, High School, Depression, ADD & Asperger. 40 years in Hollywood - Actor/Casting Director working w/Creative Types: Actors, Singers, Dancers. Expert w/Education/Entertainment
Details

Palm Springs, California 92262

7608353327

Send Message
Visit Website
Hourly Rate: $150 to $375 US Dollars
Gender: Male
About Me
Do you find yourself saying, "I Hate my Job! Why am I in this relationship? What is my Purpose in Life?"
Which ones are you feeling right now? Are you in a prison and don't have the key to get out? Do you feel trapped when it comes to your Career, Relationship or Well Being?
I'm Brent Scarpo, former casting director for films, The Shawshank Redemption, Air Force One and Matilda and now Intuitive Life Coach. Bringing together the life lessons I discovered in the entertainment industry and marrying them to my Life Coaching business, I co-create miracles with my clients.
Specializing in Millennials, high school & college students, I have worked in this arena for over thirty years. My program, "Millennials are Amazing", will transform your career/relationship into a "Get Busy Living" mindset. Using the, "Twenty Life Coaching Lessons, I discovered casting The Shawshank Redemption", you will experience a FREEDOM like Tim Robbins character, Andy Dufresne.
This FREEDOM can be seen during my Today Show appearance with Kathie Lee Gifford, where my first Life Coaching client was my guest. Google Brent Scarpo The Today Show.
Like my first client, Do you find yourself stressed out about your career and financial stability? Or, do you feel that your not financially rewarded for your chosen profession? Are there never-ending demands on your personal life, career that it is compromising your mental health?
Good News: That can change right now. You can have it all - a successful career, a great relationship with friends, family and someone you can love. My clients constantly tell me they feel a freedom and a true breath of fresh air, they've not felt for a very long time. A sense of calm, confidence and clarity comes from knowing what truly matters in their lives and understanding that it's all in the choices they make for their lives.
The time is now. If you feel like your in prison and want a way out, consider working with me to unlock your greatest potential.
Reviews
17 reviews (2 verified) (5.0)
Brent was so great to work with. He was responsive, helpful, and full of advice. He knew how to talk with my son and draw him out, help him understand his strengths, and help him improve his resume and cover letter. He was encouraging as well as straight about the work involved in getting a job that matched his skills. He helped Sam understand what it takes to get a good job and held him accountable in the job search process. Brent had contacts in the industry that my son was interested in and introduced them to Sam. Brent was also encouraging and communicative with me, Sam's mom, keeping me updated and answering questions I had. All in all it was a great experience for Sam to work with a job coach, and best of all, he landed the perfect job! Thank you Brent!!!

Hildy
When I first connected with Brent I was going through a difficult personal situation that had been bothering me for months. I was so sad, feeling very down and hopeless. Brent helped me learn how to accept and love myself for the first time ever, as well as set boundaries with other people which has changed a lot of my relationships for the better. We are still working on the one thing that I was sad about and I'm still hopeful things will change, but I know I'll be ok either way because I've become stronger on the inside and my emotions aren't controlled by other people or circumstances anymore. Brent was super supportive and encouraging throughout our time together and helped me make a lot of positive changes. If youre going through a tough time and need someone to guide you, give him a chance to help!

Anonymous
Before I started working with Brent, I was in a rut. I was in a relationship, graduated from college, but was unemployed. My parents were assisting me financially and my days were full of unmotivated job searching. After working with Brent for 4 months, I was able to update my resume, develop interviewing skills and became motivated to apply for over 100 different job opportunities. Brent provided consistent accountability that I desperately needed, and I am happy to say that I now have my dream job and am financially independent.

Carter
It has been several years since I worked with Brent in his life coaching course. Over a decade later, I consider my work with Brent to be a really positive experience because it opened my mind and my heart to new possibilities. When I worked with Brent, I needed direction in my life, specifically in my career. I felt I wanted a career change and Brent assisted me in the exploration of new options and opportunities. After the course ended, I did all this exploration trying to leave my job. Eventually, through life and work experience, I realized my job was giving me what I wanted for my career: to do meaningful and transcendental work in the lives of others. Despite all the things I disliked about my job, the fact that my job gives me the ability to assist others in finding their own direction in life, makes me happy. I have enjoyed being a Vocational Rehabilitation Counselor for 16 years and I can honestly say my work has meaning. I have continued my personal growth through Lifestyle Coach Yoga training as well as Spiritual Life Coach training as a means of improving my physical, emotional and spiritual health. The work I did with Brent was the start of a journey of growth and self discovery that has continued to this day.

Leslie Meneses
When I met with Brent I had an opportunity to move up in the company I work for. I had let other opportunities pass by, because of my insecurities and fears. Brent listened to my concerns, and helped me rephrase the entire situation. His insight, and suggestions empowered me to take the action I wanted to. I applied, and received the promotion. I have been thriving in my new position, enjoying work again. Brent has been such a help to getting my life back on the track I've wanted to be on for so long, but kept holding myself back.

Julie Blank
Brent helped me make some of the best decisions of my life through his effective life coaching programs. He is an amazing public speaker and when I heard him speak at my college, I knew he could help me in all facets of my life. I now have a beautiful house, family and the American Dream because Brent help put me in a position to make the right decisions when no one else could help me. He is truly a blessing and Im proof that his Life Coaching works.

Ryan Vaughan
Before my coaching with Brent, I was I the midst of my alcoholism and struggling with real life issues. Today , after life changing guidance from Brent I am able to handle my day to day life with more hope. I am also over 7 months clean and sober! A heartfelt thank you, Brent!! Martin

Martin Chavez
I had just graduated from Quinnipiac University when I began working with Brent. I was lost in stress and depression, struggling to find myself; I was confused about my future and I had a difficult time building healthy relationships in my life. I cannot possibly explain how much this course has changed my life. Thanks to the guidance of Brent through the 12-week course, I have uncovered a wealth of happiness and creativity that had existed within me all along. The course not only gave me a direction for my future, but I learned invaluable lessons about life, happiness, and relationships that I will always carry with me, forever enriching my life. Brent tailors his coaching course to each and every individual, making the experience very personal and life changing. He is an incredible listener, kind, understanding, and an absolute blast to work with. Furthermore, Brent pushes you to reach goals that you never dreamed possible. For example, I have begun to work on writing a childrens book, painted numerous pictures, found new hobbies, and even started a greeting card line- all because of the confidence, direction, and passion that I developed through working with Brent Scarpo.

Jennifer Ellsworth
Before I started working with Brent, I was in a rut. I was always caring for my the needs of my family, my children, and then my work when I gained employment. I didn't feel like a good person if I wasn't offering to help others constantly. I often neglected my own well-being. After working with Brent for almost two years, I have been able to set boundaries between myself and those I care for while understanding that I am a very good person for wanting to care for my own personal well-being. My self-caring and Brent's life coaching tools have enabled me to be more confident in myself and realize my worth. I have obtained a higher level position at my workplace and spend more time enjoying the activities I enjoy. I could not be happier!

Lisa Fenton
Both my wife, Sophia and I worked with Brent Scarpo as our marriage of 9 years had reached a brick wall. Covid made our relationship even more challenging, and it was impacting our two children as well. Add to it the stress of the world, job insecurity and being quarantined, our lives were a mess. Brent suggested that we work individually once a week and together as a couple. It was exactly what we needed as each of us could share individually, as well as how we operated as a couple. After six months of AMAZING Life Coaching, tools and suggestions, I am delighted to say that we are no longer banging our heads against the brick wall. Brent provided Amazing tools, (Date Night with each other was the Best), and we learned how to communicate better, give each other necessary space and most importantly how to listen. Thanks to Brent, we are much happier, are coping with the ups and downs of the world a lot better and we even saw a significant change in our children.

Martin Hughes
It was really nice working with Brent Scarpo! He helped my family and I work through a lot of creative blocks in our lives. Specifically, he helped me make the moves to move out on my own. Now I am a homeowner! I highly reccomend Brent Scarpo as a life coach!

Preston Costello
I found Brent when I was in a chaotic state in my life. With five kids in tow (his, mine, and ours) I was at a point where the wheels on the bus were about to fall off. Brent was able to not only help me rethink and organize my thoughts but was also able to assist in developing action plans in order to achieve success with life and career goals. I am not only grateful for the different perspectives he offered but the life-changing tools that I still use to this day. I have now finished my MBA, two out of four of the college kids have graduated, two more are in the process and our youngest is thriving in our new approach to parenting. My next step is writing a book. Thank you, Brent!

L.Costello-Neeley
Before contacting Brent I was a completely depressed Millennial, who had no direction in my life. I was frustrated and unhappy with my career and being single made my work day even more depressing and I was feeling very lonely. I saw Brent's Today Show episode and knew I found the right coach. I worked with him for over six months, and he provided me with numerous tools that revealed my true passion as far as a career is concerned, not to mention giving me the motivation to start dating and creating a rich and full life. Today, I have a new career that I absolutely adore, along with a man, who loves me unconditionally.

Janet Donahue, Austin, TX
Working with Brent has been a life changing experience. So much so that my daughter is also working with him for the second time. He brings a wealth of knowledge in navigating life's challenges and provides excellent guidance for a path forward. It's been an eye opening and rewarding experience to say the least. Brent is highly recommended and can add so much value to one's life!

Anonymous
I worked with Brent for a year in his Life Coaching Program. I found the information very relevant and easy to incorporate into my life. Brent often went above and beyond to challenge my beliefs, affirm the positive and give feedback to assist me in further growth. Brent has made himself available as needed since our time together. I give Brent 5 stars ask highly recommend him! I have made great strides in my life, personally, professionally, emotionally and spiritually with Brents help.

Julie Duncan
I saw Brent's AMAZING Today Show episode, (https://youtu.be/a3-6QwUu9p4) and I knew then that I needed to call and hire him as a Life Coach. My husband recently passed away and for the first time in over forty years, I was alone. Brent not only guided me through my grief, but empowered to realize that I still have a life to be enjoyed. Thanks Brent!

Edna Smith
I have hired Brent Scarpo three different times, which is a testament to the trust and satisfaction I feel when working with him. He is passionate, knowledgeable and trustworthy. His ability to facilitate miracles separates him from traditional life coaching, and if the opportunity presented itself to work with him again in the future, I would without hesitation. I recommend Brent to you, and if needed, you may reach out to me personally for a more-detailed review on what my personal experiences have been like.

Trey Weatherholtz