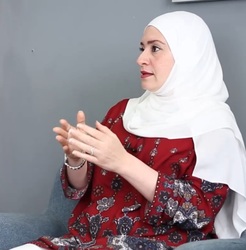 Life Coach, Relationship Coach, Business Coach
MS, Of Psychology, Sr. Member of ACCPH, and ACEP
If you're seeking transformation & growth in any aspect of life, let's work together on integrating holistically your mind, spirit & body. You'll be leading life more intentionally & successfully!
Details

Doha, Doha

0097455820226

Send Message
Gender: Female
About Me
Eclectic Coach & Integrative Healing Facilitator.
Corporate Trainer & Organizational Change Catalyst, and young adult Mentor.
Member of Association for Transpersonal Psychology (CA, USA), International Member of the Association for Comprehensive Energy Psychology (USA), Associate member of Association for Coaching (UK), Sr. Member of Accredited Counsellors, Coaches, Psychotherapists and Hypnotherapists. Certified Human Resources Manager and a member of the International Academy of Business & Financial Management (Australia) as well as the Chartered Institute Of Management (UK).
With over 20 years of experience in; organizational development and restructuring, merging and acquisition, extensive human capital management, corporate and holistic life coaching as well as business consultation across several industries – FMCG, Oil & Gas, Renewable Energy, Military and ICT.
Working for multinational firms as well as governmental entities in Middle East/GCC, and
indulged in the exposure to several cultures and diversities.
Working with individuals (professionals, young adults, families and couples) exploring their untapped potentials, growing their awareness and self-actualization, so they lead their lives mindfully with deliberation; acquiring and deploying necessary skills to expend their exposure and experience, providing career/life guidance, self-development and empowerment of youth and young adults, women enabling and entrepreneurial initiatives.
I volunteered with multiple institutions
and organizations like – Injaz Qatar (Mubadara), Qatar Professional Women Network (QPWN)… etc., facilitating workshops for groups/public or one-on-one sessions.
I am a passionate learner who believes that life comes with abundance of opportunities for those who carry open minds and hearts. Living by this motto "Do not let life happen to you. YOU go out and HAPPEN to life".
You don't have to go all the way alone, I am here to partner with you.
Reviews
17 reviews (5 verified) (4.82)
I was in a very dark place when I decided to seek help from a professional. I was lost, weak, disoriented in every way. I didnt know who I was or what I stand for. I had just gotten out of a toxic marriage from a man I thought I loved but had abused me in every possible way. I was at the verge of entering a dark hole of complete depression. I didnt know anything. I had my first session with Dounia and I was reluctant about the whole idea of getting support. However, the way she handled our first session and navigated me through areas of myself I chose to hide was just enough to make me want to go through the self healing journey with her guidance. She knew exactly what to say, when to push through and when to stop. She was extremely professional, fully supportive and gentle. The tools and methods she introduced me to in our sessions were effective and subtle in a very positive way. She was available even outside the sessions time for any observation I had and for support. After 3 months of working with Dounia, Im a changed person. I realized my worth, I was cured from my addiction to the toxic marriage I was in. I realized the negative patterns I followed in my relationships with people. Im happy again. Im glad noomii had introduced me to Dounia to go through this journey with. I will forever be thankful for all the help she has provided throughout my self healing journey.

Alaa
Dounia was kind, attentive to minute details, persuaded me to dig deeper into finding solutions whenever i felt stuck and most importantly, was there for me when i needed a helping hand. My experience with a life coach has been super fruitful and i could not have been given a better match than Dounia. Intelligent yet so humane to every issue i came across, i will leave her knowing so much more about myself and having found a friend for life!

Sheetal
It was a very good experience , Dounia is a wonderful and helpful coach , she help me more , give me a positive vibes and she help me to take a good decision .

Dorine A.A.
I was really lucky and privileged to obtain a free quick consultation from Dounia. She is very capable to understand my situation and offer straightforward advice. I believe that Dounia is a priceless asset, and will not hesitate to use her again.

Mohammed
It was a very nice experience. The coach was very understanding and open I really enjoyed talking to her.

Aya
My experience with Coach Dounia was one of the most important stations in my life, starting from the stage of confusion and confusion, a lot of unclear thoughts and feelings, and a blurred vision... to understanding, deliberation, analysis, and focusing. What I liked the most was her help in that I depend on myself and ask myself to find the solution to the problem or situation, her suggestion of wonderful books was an important reason for changing a point of view, thinking, or even way of speaking and attitude, also her linking things and situations and explaining why and how. Her speaks 3 languages (Arabic, English and French) is something great, Coach Dounia is a very good listener, she pays a good attention to the details of the problem, whether it is big or small, the examples she used to give during the talkings are distinguished and close to reality and the heart. During one of the most difficult stages in my life, I felt safe whenever I had an issue or problem bcz I remember that Coach Dounia will help me help myself to find solutions and not find a temporary solution, but rather it will be one of the ways in which I will solve my problems in the future. I recommend listening carefully for what The coach says and write down notes.

Aya Zeidan
It was the first time to try having a life coach, and I consider myself lucky to have found Dounia. Her approach is focused on self empowering, acceptance and learning. After almost a year now I still refer to her techniques when needed to come back on track. I highly recommend working with her if you need to learn about self worth and self love .

Aida gabriel
Yes it was generally positive. I felt she was empathetic and understood me, but I prefer the next time she becomes more sensitive in working with me to the point after (she mentioned it in the first session; you have some problems with yourself) I do not like a life coach to express in this way, because sometimes it effects in me to avoid discussing for more deeply issues with her.

Kumrie Zika
I first met Dounia at work during a very difficult time in both my personal & professional life, she gave me her time generously. I was expecting that she would advise me directions to make my life happy, but instead she indirectly guided me how to choose my own directions, set my goals & achieve them. I learned how to speak confidently in public as she involved me in support group & to be positive to others, i felt that i made some success in my life since i'm more confident & i can see people & life from different aspects than mine.

Anonymous
Dounia is one of the best coaches I ever met.She sees her leadership role as primarily facilitating the high performance ,learning and development of others and share their passion ,time,and energy liberally with others .she is a very organized person ,she had a high level of dedication,so she is always creative ,innovative learner and developer of custom coaching methodologies.She is a good a speaker and a good listener .I wish her all the best !!!!!

Wadad
I have met Dounia in one of her book club gathering...she seemed a very friendly and easily approached person.... She has a lots of patience and listen very carefully.. She is always available to help and support you....

Anonymous
Dounia is the best life coach I ever met.She is a good listener,and a very good speaker. She clarify and create a vision for what I want. She encourages my self-confidence ,self_care and self-discovery. She helps me to get my goals. even my personal goals with my family. She has the power to identify the negative patterns that hold me back.and encourage the positive energy In me.

Sara Ahmed
Dounia is a very emotional intelligent coach who knows how to build a successful rapport with her coachees. I had excellent interaction with her on both group coaching and one-to-one coaching. I highly respect the fact that she is always welcoming and energetic whenever I meet with her personally or over the phone and her positive energy flows easily to me and to others. She is very clear with her mentoring approach in which she makes sure the communication between her and the coachee is clear and meaningful in order to ensure full understanding of the situation and hence apply the right development tools and concepts. I was able to focus and work on her advices/ goals to me and I did reaped the benefits :)

Nasra
Dears, I am writing to recommend Dounia MAREI for being an excellent professional coach. In fact, my experience with her has undoubtedly been the best I have ever made for my personal & professional growth. I feel exponentially more confident in the major areas of my life including my career, business relationships. I know her since 2015 as a colleague, a friend and a professional coach. From my experience, Dounia is kind, honest, ethical person and very easy to work with, Ill give some high-level topics that we covered: My mental blocks and fears around coming back to home-country and accept a new business challenge. Whether to take a huge job promotion or keep doing my thing. What I really want in my career and in my personal life. How to best structure and use my calendar. What it means to "work authentically" Why Im afraid to go for the win ? Many of these topics took several sessions to gain more clarity. I admit that some sessions werent incredibly valuable. It could have been me, because i were not in the correct emotional/mental space for the session. And Dounia helped me on that to reach my professional goals. As of now, and before I make any big decision in my professional life or when I have many unknowns around a business topic, I turn to Dounia for clarity. Im currently transitioning into a new job challenges. The first person I reached out to was obviously her. Finally and based on our experience together, I can confidently recommend Dounia for Business & Professional coaching. Sincerely, Halima Kenza DAHMANI

HALIMA KENZA DAHMANI
It was amazing, the Information float into me smoothly and she changed my life from different terms , she squeezed what is good on me and let it observe the light ..

Sarah ghazi
She is very organized, she follows up frequently to see the improvements and proficient talented coach

Mawya
I had one to one coaching sessions , really changed my life and my point of view towards the events through my life journey. She's really professional and amazing Pearson. Am really grateful to Dounia Marei .

Anas Aldwaikat