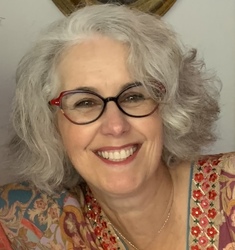 Terri O'Donnell CPCC

Lambertville, New Jersey
Life Coach, Relationship Coach, Career Coach
BS, ORSC
My ideal client is smart yet they struggle with those thoughts in their head that hold them back. They feel like something is missing, but they can't put their finger on it. If this is you, reach out.
Details

Lambertville, New Jersey 08530

215-470-9123

Send Message
Visit Website
Gender: Female
Training: CTI Co-Active Training Institute, CRR Global
About Me
Do you go round and round in your head trying to make sense of a problem, situation, or circumstance that just isn't sitting right with you? Or did you think you'd be happier by now? Or does something feel like it's missing? Or do you feel dissatisfied with your life/work/career/relationships? Oh, sure, you've thought about it over and over, and still, you're no further than you were.
It's ok. You're not alone. I've successfully helped many people over the past 12 years because my clients want to change. They're done talkin' about it, and they're ready for change/action...they want to know...how?
As a Professionally Certified Development Coach, I get you, and it starts with my complimentary, confidential, exploratory coaching call so you can experience what coaching is like. We'll determine if we're a good fit, plus you'll walk away with a powerful tool, whether we work together or not.
This is a POSITIVE, EMPOWERING, REWARDING experience and investment in yourself.
I've worked in Corporate America and ran 3 successful businesses so I understand the Corporate culture, pressure, and demands as well as all the hats one wears as a SBO. I am also a 3-time, successful business owner.
I look forward to hearing from you.
Reviews
9 reviews (1 verified) (5.0)
Terri is an excellent coach. She is very passionate about what she does and it shines through. She provides many helpful exercises to her clients to help them uncover their true identity. I'm looking forward to continue working with Terri. In just a short time, possibilities for my life and career have already began to open up.

Ron
The coaching experience with Terri O'Donnell was really very positive and most helpful to me in my search for a new position. I was in transition and involved in a job search that was going on too long. Although I was having interviews, I did not receive a job offer that I actually wanted to pursue. I thought at that point it would be good to have a coach—someone who could provide objective input from a fresh vantage point, and assist with any areas I needed to improve. I contacted Terri and we began working together. Terri is very positive and yet also grounded in reality. This balance enabled me to look at my reality honestly, but without losing sight of the positive aspects. Through Terri's assistance I was able to reflect on my experience, and create my own vision of how I wanted my day or--my life!--to unfold. Through our interaction, the meetings with Terri brought forth an energy, which lead me to be more imaginative and creative in my approach to the job search. The dynamic of our exchange strengthened my confidence during the job hunting process, and it also empowered me to be more proactive in engaging the people with whom I was interviewing. Terri O'Donnell is a great coach, and I would highly recommend her to accompany others during their transitional journeys. The experience serves to generate new ways not only to view one's reality, but to actually transform that reality! I am very grateful to Terri for her skillful presence during the coaching process. I am now in my second week at a job I truly love, and am excited about the days ahead!

Gina, Director of Healthcare Facility, Phila, PA
I highly recommend working with Terri. She is nothing short of terrific. What is best about her is how quickly she picks up on who you are and who would like to become. It's not so easy to identify what one's values and strengths are. Terri does an awesome job at this. She helps to align those identified values and strengths with who you would like to become. Crucially, Terri identifies what is holding you back. Then, she creates an effective strategy to help you surmount those obstacles. She is straight up with you when you need and she encourages you when you need it as well. Working with Terri has far exceeded my expectations.

Eddie, New Jersey
Terri has a keen ear for what I say, and what I don't say. She seems to know what to ask me to pull ideas, reasons (excuses), out of my head, and to make it safe to go to places I really don't want to go. She listens, she leads, and she understands without judging. And when you think you are all done, she somehow pulls magic out of the air and lets you see so far beyond where you are! She has a way of putting into words that which I either can't or won't. It is very enlightening to work with Terri, and I know I have grown into a much better person with her help.

Linda W.
Terri has the gift of "seeing through the smoke" to find the real issue which the client might be not wanting to face. Her energy and passion to help empower her clients come through in her spirit, her inquiries, her desire to help her clients reach their powerful place.

P.B., VA
I count myself as fortunate to have had Terri coaching me. I was totally stuck when she literally took me to a mirror to have a good, hard look at myself. The self-discovery of that moment was transformational. Terri showed compassion and sensitivity but she also pushed me to realize my own strengths. Together we went through a journey that led me to a deeper understanding and awareness of myself. The mirror was an important tool. That combined with her powerful questions and caring approach proved to be just what is needed to be a successful coach.

C.E., Washington, D.C.
Terri is wonderfully down-to-earth and easy to talk to. She is also full of wisdom and intuition about what's really going on, and she's not afraid to say what she sees. Working with Terri feels comforting, challenging and powerful--the perfect combination of qualities for transformational realizations and important calls to action. I'd highly recommend Terri as a guide and coach, leading you home to your truest self.

Rachel
"Coach Terri utilizes her positive energy in a uplifting, creative, caring and genuine way that is very transformational and energizes me to take action in my life."

Bonnie C.
After over 20 years in nonprofit management, I had decided to open my own Shiatsu bodywork practice.  To say that this was a big change in my life is to put it VERY mildly.  Opening my own business in a field that was unlike anything I had ever done before, felt like going to another planet.  Luckily, at about the same time, I met Terri O'Donnell.  I believe that there are no coincidences in life.  In a clear, simple, yet powerful way, Terri's coaching has helped me to believe in my ability to move forward into this new part of my life with joy and confidence.  She holds the space for me to be a champion in my own life.  Each time I talk to her, I bring to the table the places where I feel stuck.  She has a talent for helping me to see these stuck places with new eyes.  I have begun to change old negative thought patterns into positive encouragement and celebration of my successes, both past and present.  Little by little, I am believing more and more in the powerful successful person  I really am. Terri's help in the process is invaluable. Thank you Terri!

Bonnie McD