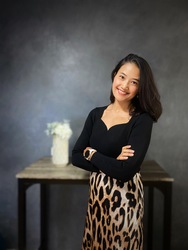 Siree Sivapetchranat

Bangkok, Bangkok
Health and Fitness Coach, Business Coach, Christian Coach
BS, MA, John Maxwell Certified Coach, Speaker, and Trainer | ACE-Certified Personal Trainer, Health Coach, and Fitness Nutrition Specialist
My ideal client is someone who is serious about getting healthier to do the good work she was created to do AND at the same time, wants coaching to help her get that good work done.
Details

Bangkok, Bangkok

+66859058548

Send Message
Visit Website
Hourly Rate: $150 to $300 US Dollars
Gender: Female
Training: The John Maxwell Team, Creative Results Management
About Me
My health and life coaching sessions will help you nourish your whole well-being as a person. Humans are not just body and not just spirit. We are both body and spirit and I incorporate this in my whole-person  health coaching.
In addition to being a John Maxwell certified coach and trainer, I am a certified Health Coach, Personal Trainer, and Fitness Nutrition Specialist.
My wellness philosophy advocates for Whole-Person Wellness and champions the three main pillars of wellness - Active Living, Nourishment, and Rest. I want to help people change their focus away from only losing weight as the primary goal of they life, after all, life is much more than that!
I help my clients appreciate that health is a resource for everyday living, not the purpose of life. I help clients optimize their health so they can have the energy and emotional wellness to fulfill their life goals.
My clients and I work together through our coaching sessions to develop three vital areas of wellness: active living, nourishment, and rest.
I live in Bangkok, Thailand, with my husband and three children.
Reviews
3 reviews (5.0)
Siree has been a wonderful health coach for me. She has helped me to lose weight, tone muscle, and to think about my overall health needs. She is very knowledgeable, empathic, and responsive. She listens well and will customize a program to help you meet your personal health goals. I highly recommend her to anyone looking to live a healthier lifestyle.

Ginny
Coach Siree has been a critical part of my health transformation, both in terms of my physical appearance (losing 10 kg gradually over 6 months) and significantly increase my energy levels and muscle tone. At 43, I am in better health now than ever before. I appreciate her sincerity and desire to first deeply listen compassionately and then comes alongside as a health coach to create actionable steps towards my goals. Her core belief that health is a resource resonates with me and I am always eager to learn about the critical roles that nutrition, stress and rest plays towards my health.

Sang Chanyaputhipong
I have known Siree both as fitness and health coach. Her coaching approach is personal yet firm and encouraging. She has good instinct for the best approach to clients needs and is willing to explore and journey with along the way. Thats what makes her a compassionate, intuitive and effective coach to me. Thank you Siree.

Catherine