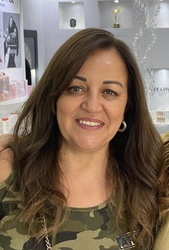 Nesma Kamel

Cairo, Al Qahirah
Life Coach, Health and Fitness Coach, Family Coach
BA, Addiction coach, CBT , CBT for weight loss, Emotional Eating Psycology, CBT for eating disorders
I coach people looking for happiness and need help to achieve it. My specialities are single moms struggling to find peace and happiness. I also coach those with eating disorders and emotional eating.
Details

Cairo, Al Qahirah

+20 1222202827

Send Message
Visit Website
About Me
I believe that everyone deserves to be happy and to live the life they are yearning for . Through my studies , I can help people achieve their dream, I help them accept the things they can't change, change the things that they can and the wisdom to know the difference .
I studied Life Coaching, Counselling, Group Therapy, Health Coaching, , Emotional Eating Psychology, Addiction Coaching, CBT, CBT for weight loss, CBT for all eating disorders and DBT.
My main specialty is single moms and people with eating disorders .
I use many techniques in my work especially CBT and the humanitarian school , through active listening , empathy and being non judgemental . I help clients to find their main problems that's making them unhappy and together we form a team to try and unfold it bit by bit till the client find her own solutions .
I form a team with my client for her own benefit and by trying many techniques , together we find what's best for her . I use weekly homework to keep the client engaged in the healing process .
After working as a life coach for sometime I discovered that a lot of people are struggling silently with eating disorders , and I noticed that they are many among us but hiding and suffering in silence , it's then that I started also my practice with people with eating disorders.
My motto is that "Happiness is a choice "
I work on making every person see this and act to achieve it .
Reviews
4 reviews (1 verified) (5.0)
Its just my first session with Mrs Nesma but I really felt her support , I know the way is still long to me to get cured but i believe in my gut instinct and I hope me and her can work strong together to get me out of this stage as she said we are a team now .

Esraa
Nesma is a great life coach. I dealt with her in food disorders. She assisted me in changing my mindset to be able to succeed in weight loss. I highly appreciate her effort, knowledge and patience.

Dina Sourial
Nesma is such a dedicated coach who fully invests her time and effort to help others. She goes above and beyond and pays so much attention to details . Nesma digs so deep to identify the root cause of what s going on so she can provide long term solutions. She gives you all the attention and all he ears and is a great listener. Nesma has helped me to discover self care programs and enabled me to find peace and happiness within. I can not thank her enough!!!!

Sherry Nagui
Nesma is very professional life coach with a very kind human touch, she really cares for you & gives you her full attention, she is also very practical, & creative on her ways of help, always walking your pace, very understanding & very pleasant to deal with Highly recommended as she really aims to help you find your way to happiness & well being

Dahlia