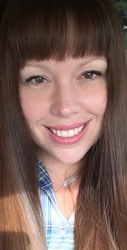 Michelle Fuller

Manlius, New York
Life Coach, Relationship Coach, Spirituality Coach
3 Life Coach Certifications, MS CMHC (Clinical Mental Health Counselor) in progress
My ideal client seeks self-connection. They want to heal, discover Who They Are, and own their unique purpose in the world. They have the courage to engage in the healing and self-development process.
Details

Manlius, New York 13104

3156321735

Send Message
Visit Website
Hourly Rate: $100 US Dollars
Gender: Female
About Me
I am a Life Coach currently completing Graduate Studies and Licensure in Clinical Mental Health Counseling. My knowledge encompasses my own healing path, 3 Life Coach Certification completions, 7 years experience as a professional healer, 17 years working in the helping fields, extensive graduate studies, and in-depth personal studying, seeking, and embodiment. I provide helping services to both men and women.
By identifying the internal (self) and external (others and the world) elements that are fueling unhappiness, suffering, and self-disconnection, we can begin to process the past and integrate our full, true selves. And when we do this? We begin to lead with purpose and excitement. We begin to remember that we are here for a reason! And when we feel heard, we begin to heal. I'm here to hear you and guide you to the results that you desire and WILL achieve.
Sessions are tailored to meet your individual needs and achieve your unique goals. Specialties include reinventing your relationship to yourself and others, working through symptoms of depression and anxiety, parenting support, divorce support, career support, emotional flashback support, inner child work, cognitive and emotional mindfulness, healing attachment trauma, identifying and healing self-sabotage, healing codependency and other relationship patterns, personal boundaries, stepping into your truth, embodying self-trust and healthy self-concept, processing rage and grief, family estrangement, intimacy fears, healing from narcissistic abuse, highly sensitive person (HSP)/empath support, and feeling alone/disconnected from others and the world.
In seeking support, you have already chosen yourSelf. Thank you for choosing me, as well, to support you on your healing journey, your self-remembrance, and your self-reclamation. I offer coaching sessions via phone, zoom, and in-person for locals.
Reviews
12 reviews (5.0)
Michelle has been a wonderful coach and addition to my life! She is attentive, intuitive, flexible and very aware and perceptive. Michelle has always been able to feel into what I need to assist in my healing journey and has a plethora of information, insight and knowledge to share. I cannot say enough about my appreciation for her as well as her guidance and support!

Amanda N
Michelle has truly transformed my outlook on life over the past year and a half. I came into our first session overwhelmed with life, a negative outlook on myself and the world, extremely depressed and felt like I had lost myself completely over the last 5 years. We started slow and she met me where I was at. She guided me (and continues to guide me) to find all the answers I needed! She helped me find my core values, build my self identity, and so much more. She helped me track my thoughts to find all my negative self talk that I havent been able to see before her. I saw traditional therapists 10+ years and have NEVER got these type of results before. My favorite thing about her sessions is that you can go into a spiritual deep dive if thats what you want that week, or you can have a venting/therapy session. Everything is based on what YOU need out of the session. Thank you, Michelle!! I dont know where I would be without you!

Mia
I started with my first therapist at 17 years old and have been in and out of therapy my entire adult life. I consider myself a healer, empath, seeker of wisdom and life long learner. In my past experiences with therapist/counselors/social workers/psychologist/psychiatrist, I felt I was never given the space to be completely vulnerable and honest because of my shame, my guilt, my past is too much for anyone to hear. I can now say for the first time in my life, I have been gifted with Michelle and she has been guiding me on releasing that shame and guilt we all carry. She has been guiding my path for over a year now and I can honestly say, I am not sure where I would be without her. Michelle has shown me all my healing and all my gifts are within me this whole time. I am learning to trust myself and my knowing. Michelle has been extremely professional and yet my friend and my sister. Michelle has been flexible with her schedule and available at unconventional times when needed. Her prices are beyond fair and I know she puts in a lot of extra time on the side as she writes up sessions, sends documents and homework as needed, to do at my own pace. I highly recommend Michelle to anyone seeking to find their deepest truth and healing. She is a true healer and guide on Mother Earth; a shinning star, full of energy and light. So incredible thankful for YOU sister xoxoxoxoxoxoxoxoxoxoxoxo

Trudy
Working with Michelle has opened up a world of intention, trust, self-discovery, and relational proficiency for me. After just a few months, I feel rejuvenated and excited about all this life has to offer me, and the abundance I have to explore within and beyond it. Michelle's guidance has unlocked a sense of individual and collective purpose, belonging, and meaning in a way that I have never before experienced. I have never in my life felt so simultaneously at peace and full of passion on both physical and energetic levels. Michelle's personal journey and hard work clearly informs her breathtaking connection to self

Anonymous
I am amazed by the transformation I feel Blessed to Witness as I reflect upon the three and a half years I worked with Michelle as my therapist and consider how I continue to evolve as I discover new ways to Remember Who I Am and weave the fabric of my life accordingly. Michelle does a beautiful job of shining the lightso much lightto allow her client to truly access and connect to their Internal Guidance System, or Intuition, while opening to the experience of what it means to live authentically, and in alignment with ones Integrity. Michelle gave me the Gift of recognizing that as an Empath, or Highly Sensitive Person, the parts of myself that I feared, denied, subverted, and abandoned for so long comprised my Divine Soul Essence and indeed, constituted my own Gifts from God/Source. Through my work with Michelle, I accessed so many Keys to Sovereigntyfor instance, learning to Choose Love over Fear, and Choosing to lead a value-based life rooted in nurturance of the Self. As I developed my ability to connect to mySelf, Source and Others, I engaged in work to heal and reparent my inner child and learned how to walk Home to mySelf in times of emotional distress or overwhelm. It is my experience working with Michelle that has enabled me to cultivate ways of Being that allow me to access and discover how I can bring my Gifts forth in world through Service to Others.

Jen A.
I was doubtful that I would find someone that I would click with on Noomii so I was quite relieved to have found Michelle. I felt at ease with her right away. Her wisdom, kindness and expertise have helped me immensely. I feel fully heard and seen during our meetings and leave them feeling more empowered and purposeful. I highly recommend Michelle if you need a loving and honest helping hand on your journey to your true, free self. She is an awesome support to have on your side.

Elissa
Michelle and I have been working together for a few months now. She is amazing! Each session she helps me work toward my goals and provides very detailed information. She follows up her sessions with an email recap with helpful links, articles, music, etc. She is a positive light and I am so thankful to have found her beautiful soul to accompany me on this journey!

Casie Hartman
Im so lucky to have stumbled onto Michelle to help me work with my BS. Im growing by leaps and bounds with her guidance and insight.

Naomi Pascoe
Michelle is amazing! She listens, validates and provides thought provoking insight and perspective. I am forever grateful she is on this journey with me

Kerri
Michelle has helped me so much. I am so grateful for her!

David H
I worked with Michelle for 4 years. I didnt know I was struggling with symptoms of trauma and bringing trauma responses into my life and into my relationships when I met her. She helped me identify all of this. Michelle helped me figure out who I actually am, and what I am called to do in my life. She helped me learn to determine what my standards are for myself and to ask for those standards to be met in all areas of my life, mostly from myself. She has taught me so much and I am so grateful to her. I highly recommend Michelle. I feel like she is the first person in my life who really saw me and understood me, and really wanted me to succeed in my life. She has been such a gift to me and to my son, also. I feel like he has his true mother and I can give him the guidance he needs And deserves.

Stephanie
Debra