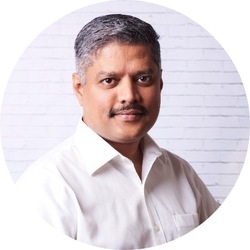 Johncey George

Bangalore, Karnataka
Executive Coach, Leadership Coach, Career Coach
Management Education in IIMB, Harvard, ISB, International Coaching Federation Accredited: Certified Leadership & Life Coach, Emotions Mastery Coach
I help INTROVERTS accelerate their Career to Senior Management Roles. I help them with tips and strategies to sharpen their skills like Leadership, Communication, Public speaking, Executive Presence
Details

Bangalore, Karnataka

+91-9845059631

Send Message
Visit Website
Gender: Male
Training: Coach For Life
About Me
Are you an Introvert or a Quiet Person?
• Do you want to fast-track your growth in the company?
• Or have you hit a roadblock in your career?
• Do you struggle to assert yourself?
• Do you struggle to speak up in meetings?
• Are you ignored for promotions?
• You hate networking and struggle building relationships?
• Want to recognize your Self-Worth?
• Want to figure out your inherent strengths, values, and life purpose?
• Want to achieve your dreams/goals?
If any of your answers are YES,
Get coached 1:1 by Coach Johncey and break away from your "stuck."
Coaching Benefits as an Introvert:
-----------------------------------
Introverts have unique strengths that Coach Johncey brings out during his coaching sessions and help them become successful.
1. Develop influential skills
2. Speak up boldly in meetings
3. Communicate Assertively
4. Reduce the struggle of networking socially
5. Learn unique strategies to make networking easy and comfortable
6. Become influential in the organization
7. Strong Executive Presence as you work with other leaders, team members, and stakeholders
8. Develop your Personal Brand and get noticed by others
9. Improve your Public Speaking Skills
Other Benefits of Coaching
------------------------------------
1. Fast-track your career
2. Discover your purpose in life
3. Achieve tangible and intangible goals
4. Experience a sense of purpose and a deep sense of fulfillment like never before!
5. Reduced stress
6. Ability to say a "Positive NO" and still feel great
7. Develop excellent alignment with colleagues
8. Strengthen conflict management skills
Johncey George has over 23 years as COO, Director, and Board of Directors of MNCs. A BE graduate, management education from IIMB, ISB, Harvard.
His article on Introverts was featured in Forbes India Magazine.
Johncey coaches leaders from mid-management to CXOs, helping them unleash their potential. Several leaders got promoted/got jobs as CXOs in 6 months to 1 year.
Students pls excuse.
Reviews
9 reviews (4 verified) (5.0)
Johncey has been my coach for the last one year. This was my first experience being coached, and it has been an enriching once. The methods Johncey used were well suited for an introvert like me. He takes you on a journey into yourself, helping to know your principles and core foundations as a person. The subsequent sessions are based on this foundation that has been laid. It has helped me fall back during tough times on what is important to me and how my career helps me achieve that. Johncey's coaching is not a quick fix solution. It is an overhaul of your principles, and the best results come with time, and they are long lasting. Wishing him all the best in his efforts to help others like me.

Rubin James
Coach Johncey has been a great mentor and friend for the short time that I've known him. I would highly recommend everyone to try our Coach's Self Discovery session to crystallise their values and life's purpose in a very actionable way. As an introvert myself, I really appreciate his introvert focused approach to coaching. It has brought me out of my shell and has really helped me to become a better businessman and leader. His Strategic Thinking workshop is also a great practical introduction to the art and science of strategy

Advaith Mohan
I was in need of help in my professional career and finally decided to seek the help of an Executive Career and Leadership Coach. Coach Johncey is an incredibly intelligent, perceptive, professional and empathetic person that I believe, gave me an honest, concise and holistic approach to career and leadership coaching. I will recommend Coach Johncey to any individual be it a career professional, corporate leader or entrepreneur. Coach Johncey takes time to really understand you, creates an atmosphere that makes you feel comfortable and encourages the open and free exchange of feedback and ideas. Many of us face struggles in our professional lives and having a mentor like Coach Johncey can be the difference maker that helps us successfully overcome the challenges of career development. He helped me make improvements to the career search process, especially to my approach to interviews and I was able to secure a new job during my time under his mentorship. Career coaching improved my methodology and approach for the career search and development process and Noomii couldn't have connected me with a better Coach. I will wholeheartedly endorse Coach Johncey for anyone who needs help to overcome challenges they face in their careers or businesses. It is one of the best decisions I have ever made and the best decision one could make for their future.

Elvin Philips
I had a good experience. He is really helping and apart from coaching he gives very good advice.

Ravi
I started my journey with Coach with the strategic mindset coaching and post that it has become a life long commitment to be Coached by Coach Johncey. That was just the beginning. I did my leadership coaching also , which was tailored to my requirements. I have been an introvert through my life and his coaching specifically helped me articulate well with confidence and helped me find my words in public forums and increase my confidence in terms of my communication skills. Today me and my team only get Coached by him, as I cant think of anyone else when it comes to coaching.

Sripriya Ramanathan
Coach Johncey's sessions are simple and easy to understand with practical suggestions which one can take back and implement on a consistent basis. Through the workshops and thanks to Coach Johncey, I have come to understand the importance of a coach for which I am in a much better place. I strongly recommend Johncey's coaching programmes. There is an abundance of knowledge and experience that a coachee can bank on and learn from.

Krishnan
Coach Johncey's Coaching program has most definitely been life changing. Here are some great results after I went through the program. 1.I lost over 15kgs of weight, which was one of the goals I set. While I followed an awesome weight loss program by another consultant who Coach suggested, it was the motivation, ideas of being consistent which I received in the Coaching Program which helped me get started and reach the goal. 2. The programs helped me to be a better doctor because of the proactive approach I have taken in my profession after having a mindset change, which happened during the program. 3.The programs helped me gain financially too because of my professional growth. Apart from this: a. I learnt what was success and what it meant to me, rather than an open-ended undefined definition. I find happiness because of this. b. This program conditioned my mind to think positively and more importantly to do that consistently to a point where I noticed changes in my life which were positive. c. This program made me think about the things that matter and more importantly the things that matter to me. I highly recommend Coach Johncey's Coaching Programs. This program can help you do what you need to do, to get what you want from life, irrespective of your circumstances. Some may have to work harder and some people will take longer but everyone's goals aren't the same. That is were Coach Johncey's guidance is key. Progress is inevitable. Dr. Naveen Mathew A Practicing Medical Doctor

Dr Naveen
At the outset, what impressed me on day 1 is the 'Self-Discovery' exercise which took close to 2 Hrs of intensive grilling. I felt a bit exhausted mentally, but the outcome was just awesome.. It clearly painted a beautiful picture of what I wanted to be, which I was unaware till that day.. All the goals, strength, weakness which were hiding in my subconscious mind came out jotted in an A4 sheet, which is now a career bible me. As an affirmation, I read that page daily before starting my work.. It also reinforced my goals and gave me the confidence to achieve it. He also coached me well about 'Sleeping hours/Work time, Quit smoking, How to say a NO etc etc, which helped me work professionally and saved a lot of time in a day, which has definitely contributed to the growth of my company to 125% even in pandemic times. Coming to the finer print...A personal note about Coach Johncey What I liked in him is his absolute honesty, outright straight-forwardness, & his humility... He is a very very humble person, personally. Thank you Coach Johncey

Simon L
The initial self-discovery session got me hooked. Coach Johncey helped put together pieces of me which were scattered around in my head, to form the clearer picture of who I am. He makes you think deep and has the ability to bring out the best in you. He helped me accept the person that I am and showed me how to bring out the strengths which I didnt know I had. He is a patient listener and it was very comfortable communicating with him. Attending his coaching sessions has rekindled a fire in me to be better and I feel truly motivated to pursue my dreams.

Achu Vinod Thomas