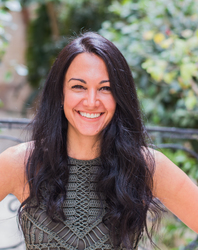 Gillian Scerri

Wellington Bridge, Wexford
Health and Fitness Coach, Life Coach, Spirituality Coach
I help individuals beat the stress, ditch the extra weight, develop healthy habits and enjoy their best energy, health & spirit.
Details

Wellington Bridge, Wexford

+353 851479794

Send Message
Visit Website
Hourly Rate: €100 to €125 Euros
Gender: Female
Training: Nature Care College
About Me
Are you fatigued, stressed, or burnt out? Is it impacting your health? Are you unsatisfied with the direction your health is taking and want to make a change?
I specialise in the mind-body connection from the perspective of unhealthy lifestyle habits, and their impact on your clarity, and your emotional and mental well-being. Through my process, I help individuals feel calmer and happier while embracing vibrant health.

My programme draws upon the latest findings from the fields of coaching, neuroscience, neuroplasticity, nutrition, food as medicine, traditional approaches to wellness, PNI and spirituality.
​
I am a qualified Holistic Wellness Coach, a member of the ​​International Institute for Complementary Therapists (IICT), and have been studying self-development and holistic health for the last 5 years.

I am fascinated by alternative methods of healing both body and mind and traveled to different parts of the world to expose myself to the healing ways of ancient traditions including Shamanism, Ayurveda, and Traditional Chinese Medicine.
I spent most of my early years fighting my intuition and neglecting my body. It eventually got the better of me and led to serious health issues including digestive issues, fatigue, anxiety, depression and cancer. Through my journey of study, self-discovery and self-healing, I feel healthier than ever and my mission is to help others avoid the mistakes I made and enjoy a less stressful, healthier and happier life.
Download your Complimentary Stress Reduction Tips here: alignthroughchoice.com
Reviews
8 reviews (5.0)
.. she deserves more than five stars. After working with Gillian I was able to achieve most of my goals and gain confidence. She helped me to set my goals and she always goes above and beyond. She is very good at understanding me. I would highly recommend her to anyone looking to make changes in their life /work …

Hammad Mohammad
I've had a life changing experience with Gill! I'm coming to the end of our 3 months working together and I have never felt safer within myself! If you're wondering whether or not to do it… DO IT! It's never too late to invest in yourself, and will never not be worth it <3

Masie Tatts
I came to Gillian for help with a prep for an interview for a job I had no experience in and really wanted and was super nervous about. Gillian went straight to the core of me. She easily unpacked my previous experiences and strengths and showed me how they actually do fit the new job. Gillian has this magical ability to make people see themselves in a different light. With care, patience and her great interview prep skills we worked on rephrasing my answers to possible questions. She also gave me tools to manage my anxiety and overall stress. I can honestly say that I walked away from that session feeling powerful and strong. And it wasn't just a feeling, Gillian made me see my own worth and I am extremely grateful for that. And for those that wonder, I got the job!

Nina Wallbach
I highly recommend Gill as a skilled professional and approachable coach. She has helped me to develop self-confidence and she has encouraged me to make the necessary decisions in difficult times, always with empathy, understanding, and good humour. She taught me that it is right to think differently or to have different needs. Now I am less harsh on myself and therefore, happier. Thank you so much again for your support, dedication, and integrity.

Lola Cuevas
Gill coached me through pretty much everything. The knowledge and experiences I have taken away will stay with me forever, and I have applied it to my own leadership role. She gave me the tools to continually improve and learn. She was extremely patient, caring and passionate about developing me as a person. The impact of her coaching has been enormous. I would recommend Gill to everyone - she is professional, knowledgeable and extremely genuine. Gill is by far the best coach I have had.

Conor
Upon meeting Gill, I knew instantly that we were going to be a great fit. I have had issues controlling my weight for years and have struggled with such a negative view of myself. Gill is working with me to learn how to live a life that involves eating healthily and exercising but isn't an all-or-nothing situation. This means I can still enjoy some of the foods I really love every day, but still live a healthy lifestyle. I have had some slip-ups, especially over the holidays, but Gill is teaching me not to dwell on them (which is hard when you have an obsessive personality). I just try to remember today is a new day, what happened yesterday doesn't matter today. Through my sessions with Gill, I have also learned that I love myself a lot more than I thought, which gives me so much hope that one day I can love who I see in the mirror. I am so excited to see what the future holds with the continued support of Gill. Thank you Gill for taking me on, I could never capture in words what your support has meant and will continue to mean for hopefully the years to come

Jamie Lee
Gill is an experienced and highly intuitive coach. She has got the rare ability to ask really great questions that helped me to explore my own solutions. Being coached by Gill helped me to get clarity on various challenges I was facing and supported me in finding a way forward. I can highly recommend Gill if you are looking for a great coach.

Rikarda
Forever a sceptic but feeling a bit in a rut, I went to Gill to see if there was any real value to life coaching. I had let my workout routine slip away. Gill helped me set a goal and suggested ways to carry it out. One step at a time. With a few alterations and my workout was back on track! Each week she gently pushed me on to other concerns which had clearly been on my mind but I was avoiding. Gill encouraged me to talk freely which led to a reboot of my business mission statement. Gill helped me with gentle nudges, to move forward and not stagnate. I highly recommend Gill!

Cooper - Imperfect Notions Fashion