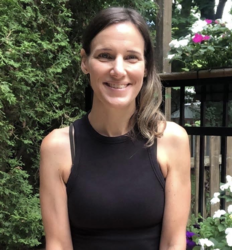 Debbie Harbec

Lorraine, Quebec
Life Coach, Health and Fitness Coach, Entrepreneurship Coach
Certified Life Coach, RYT, Certified PT, B.Eng.
Are you a woman in mid-life, struggling with body changes and making yourself a priority? I'll help you feel better/healthier in your body, and gain confidence as you navigate this time of your life.
Details

Lorraine, Quebec J6Z 3A5

5144456434

Send Message
Visit Website
Hourly Rate: $150 to $200 Canadian Dollars
Gender: Female
About Me
I'm Debbie and I'm a certified PCC life coach and yoga teacher.
I work with women over 40, helping them feel their best in their bodies, and their lives, as they navigate peri/menopause, and all the changes that midlife can bring.
In particular, I can help you…
- Prioritize yourself
- Create healthier lifestyle habits
- Reduce hormonal belly fat
- Improve your energy, health, and vitality
- Rediscover your confidence
- Sleep better
- Find a new work-life balance
- Manage stress and uncertainty
- Add more meaning to your life
- Manage your mindset
My own experience, losing my mother to cancer when she was in her early menopause years, inspired me to begin working with other women and help them discover a healthier way of life.
I take a holistic view of each unique woman I work with. I listen to you and seek to understand all the elements of who you are, including your current health, your eating and exercise habits, your work, your relationships, your stress level, your creative outlets, and your limiting beliefs about yourself.
Then I help you identify meaningful goals, ones that go beyond just a number on a scale.
Once we've established your goals, I use tools that I've gathered as a life coach, as well as a yoga teacher, personal trainer and nutrition coach, to coach you through the inevitable obstacles you'll encounter.
And I'll help keep you focused and moving forward to the finish line.
As a coach, I believe in walking beside you every step of the way until you reach your goals. My clients have achieved some amazing results from losing 75 pounds, to joining the police force at 47 years-old, to leaving old relationships, rediscovering old passions, and elevating themselves to being their own top priority. And I know I can help you get the results you want too.
Contact me and I'll set up a free session with you to find out more.
Reviews
Debbie, what can I say. You saved me, you gave me my life back. With your help, not only did I transform on the outside but also on the inside. You are encouraging and never give up on me, even when I questioned myself. With your help I strive to be a better role model for my kids. Thank you so much! I look forward to our weekly sessions and I will continue to break through my comfort zones with your help!

Charla M.