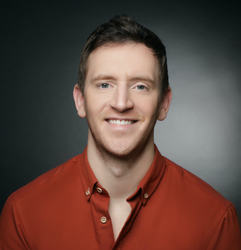 Benjamin Fitzgerald

New York, New York
Career Coach, Business Coach, Life Coach
MA, Certified Executive & Life Coach, Entrepreneur, NLP Master, CMS Change Manager, Prince 2 PM; Lean Six Sigma Black Belt
Feeling stuck, stressed or overwhelmed? You want to make a change but are unsure of the steps forward? I will partner with you to form a practical plan, clear obstacles and take action.
About Me
As a career and business coach, I offer a personalized blend of life & executive coaching, planning support and research-based skill development.
Areas of Specialization:
Career Transition: Moving sectors or accelerating the track you're on
Purpose & Productivity: Managing stress & anxiety, self-doubt; setting meaningful goals; overcoming procrastination; changing habits
New Business Development: Build an efficient & scalable plan to realize your vision or work to pinpoint the opportunity areas based on data-driven insight.

My background:
I've spent 14+ years in senior business transformation roles, leading people & teams through complex change. In under 10 years I grew my career from an analyst position to global director at a London-based data science firm. That real life experience, coupled with over a decade of research in neuroscience, psychology and personal development subjects, informs the support I provide my clients.
My Approach:
In a confidential setting, free of judgement, I help you to overcome your obstacles and, crucially, enjoy the path you're on by relating what we discuss to your core motivations, your values, interests and learning style.
Getting Started
Step 1: Free consultation
Step 2: Three sessions to start, designed around your objectives. You'll experience the full range of my support, while achieving tangible results.
Step 3: A free review session to review my recommendations for ongoing support, if needed. There's no further obligation beyond this point.
I support clients remotely via Google Meets.
For more information & to schedule a consultation please visit www.benjaminfitzgerald.com
Reviews
16 reviews (3 verified) (5.0)
It only took a few minutes of conversation to decide, Ben gets me. I interviewed a few other coaches and all of them are good and capable. But Ben and I had a unique connection that will pay dividends as I grow in new directions.

Matthew
It's been great working with Ben. He is professional, organized, and it's clear he puts in the effort for each session and activity.

Fatemeh
I am enjoying my work with Benjamin, and think it will yield great results.

Kevin
Ben provides practical solutions to very specific problems, and his knowledge of the "corporate world" within IT has been immensely helpful in comprehending how things work. He's also helped me see beyond my perceived potential and encouraged me to strive for even more. - Marco, Management Consultant

Marco K.
Ben has been an incredible partner and adviser in my business and given me such clarity in my business and goals. He has an incredible ability to boil down complicated issues to their simple root (often in a sentence or two) and find a way to address the core issue. He consistently challenges me to think bigger and helps me create the steps I need to achieve those big goals. It's incredible having someone like Ben on my side. My only regret was not finding him sooner.

Jonathan M
You're a great coach. You're knowledgeable, friendly, and super curious, but also efficient. (One session with you feels like three.) You disagree directly, gently, and without judgement. When my narrative needs needling, you pop it. You're a great coach and I've learned a lot from you. Some by what you've questioned, some by what you've suggested, but even more by how you've treated me. I'm a better person, husband, dad, friend, and leader than I was when we started, and you're at least partly to blame for all that. So thanks I guess. Joel.

Joel
Ben was very thoughtful and provided me with a framework to map out the next steps in my career. From our first consultation it was evident that Ben was an active listener and able to understand my unique circumstances. Throughout our sessions, he was able to extract the right information to create customized exercises that helped organize my thoughts into actual timelines and goals. I would definitely partner with Ben again to coach me through pivotal career decisions in the future.

Balazs
Ben is a wonderful coach and our sessions were very insightful. We were able to recognize my key development areas whilst creating a sustainable action plan for long-term career objectives. I would definitely recommend Ben as a coach, for him being non-judgmental, insightful and comfortable to communicate with.

Mitul, Senior Analyst
I found my coaching sessions with Ben extremely powerful. He's an amazing listener and he made me feel completely at ease. What I found particularly impressive was the way he helped me create several, powerful statements of intent that I'm still using months later to maintain the results I've achieved. I can recommend Ben highly. The heavy work will be on you, as it should be, but he will be your great support.

Loredana, Pricing Consultant
I was astounded at how much ground we covered and I've walked away from each session with a structured line of thought ever since. Ben helped place me in the centre of my world to articulate my needs and my blockers. Crucially, he helped me see how changes in my perspective could resolve the obstacles I faced. I look forward to more sessions and I hope that many more people have the chance to work with Ben in this capacity.

Gar Sin Chong
Ben's sessions offered me a safe space to reflect on my thoughts to make better decisions. I like that he does not impose his ideas or opinions. Instead, Ben asks strong, probing questions that get to the root of the issue and demonstrate his knowledge of his craft. It's a good investment in time and money to get yourself coached and mentored and I plan to schedule more sessions with Ben.

Shivendra Tiwari
At a time of corporate restructuring, doubts on career progression and struggles in balancing life, working with Ben have enabled me to structure my thoughts, identify actual problems, and develop realistic solutions. I would definitely recommend Ben as a coach, as he has the ability to create a friendly atmosphere and establish personal connections, which makes the sessions enjoyable and productive.

Tiffany, Analyst
Ben was born to do this! Extremely patient, highly articulate with a deep understanding of the subject. I found Ben's coaching session to be extremely helpful as it is very unique. The sessions helped me realize what I fundamentally wanted out of myself. It shut out my outside bias and helped me decode an inner voice I found deep within me. I am sure sessions like these have the potential to fast track one's development. And since I am now more in tune with my inner voice, I feel more happy and energised to work on my goals.

Rahul, Lead Analyst
Having never been coached before, I was nervous as I didn't know what to expect. So I was pleasantly surprised when I walked out my first coaching session feeling empowered, motivated and clear-headed. Before my first session, I was aware of my tendency to over-complicate issues and develop a negative mind-set. This was preventing me from fulfilling my potential and taking myself out my comfort zone. My sessions with Ben allowed me to work through my self-imposed limits and re-frame my thoughts to focus on making smaller changes and executing better. Working with Ben helped me to convert the energy I spent into over thinking when planning and instead develop healthy habits that stick. Ben was pivotal in asking key questions which allowed me to unpack and come to the conclusion that I needed to be kinder to myself. Im grateful for Bens framework which was delivered in a professional, yet warm and supportive manner and I would definitely work with Ben again and would recommend for anyone looking to come to their own conclusions and find a solution!

Sumaya, HR Manager
I found Ben impressive in his approach and preparation. He enabled me to go deeper into the stated problem with sharp questions and guidance, finding a solution. I found the interaction easy, professional and helpful. I had setup subsequent follow ups. Ben has my recommendation as a strong coach and a trustworthy person who brings the art of coaching and self discovery.

Jagadeesh, Business Development Director
I found the coaching sessions with Ben to be incredibly useful. Ben's coaching style is great, some key areas which I found worked well for me are: Environment: I felt comfortable - it was a safe place with no judgement. Questioning technique: Ben is able to balance bringing you back to the subject of focus when you drift too far with letting you wonder to arrive in a place where you're uncovering the real problem at hand. Actionable output: Creates and sends you relevant and targeted notes from the session so you can maintain focus. Coaching from Ben was a real catalyst for me to make some serious and positive changes in my personal life. I'd been struggling to quit smoking, be active and healthy for some time. After the sessions with Ben I gained clarity over what I wanted, why I wanted it and was able to put an achievable plan in place to actually deliver it. As of writing this I'm 7 weeks smoke free and discovered a new hobby to keep me active that I'm passionate about.

Dave, Consultant