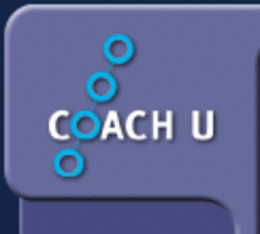 Coach U
Coach U is the leading global provider of coach training programs. The Advanced Coaching Program™ (ACP™) meets the academic requirements for becoming an Associate Certified Coach (ACC), Professional Certified Coach (PCC) or Master Certified Coach (MCC) through the International Coach Federation (ICF).
Since 1992, Coach U has offered the most comprehensive coach training programs with 95% of faculty members that are professionally trained, experienced, ICF certified coaches at the PCC or MCC level. You will learn to coach, build your coaching practice, integrate coaching skills into your current life or work, and develop a strong personal foundation. Most participants choose to start their coach training with the Core Essentials™ or Core Essentials Fast Track™ programs, while others who are already ICF certified step directly into Coach U's Advanced Coaching Program or Corporate Coach U's Advanced Corporate Coaching Program.
For many coaches, supporting others in building terrific lives is the most fulfilling work they have ever done. Others find meaning and fulfillment in co-creating a coaching culture in an organizational setting. If you are interested in offering life, career, business or corporate coaching services, you will be pleased with our programs.
Details

Visit Website

Address:

11523 Palm Bush Trail, #354

Contact:

Ms. Pamela Richarde.
1-800-48COACH
Admissions@coachinc.com
Programs
Advanced Coaching Program (ACP)
Description: Coach U's Advanced Coaching Program and Corporate Coach U's Advanced Corporate Coaching Program are exclusively for Coach U Core Essentials Graduates and already-credentialed ICF coaches.
Our approved ICF Accredited Coach Training Program track (ICF ACTP Track) completes with the Certified Graduate designation in both Advanced Programs. Our Advanced Programs offer intermediate to advanced courses to refine core coaching competency and develop mastery beyond core coaching competency for those seeking ICF credentialing at the Associate Certified Coach (ACC), Professional Certified Coach (PCC) and Master Certified Coach (MCC) levels. Core Essentials Program participants learn foundational coaching skills and a variety of proprietary coaching models that can be used with virtually any individual or group. In the Advanced Programs, each learner selects their focus market and special interests and builds a unique learning journey to accomplish personal, professional and business development goals. The structure of our Advanced Program is critical for sustainable success; connect weekly, deepen relationships, participate in many practicums, give/receive regular coaching feedback, expand business opportunities and more.
Coaches may make the commitment to coaching excellence at the beginning of their journey by enrolling in both the Core and Advanced Programs, or Core Essentials Graduates may upgrade later into an Advanced Program
ICF Certification:

Price: 4195 US Dollars
Length: 44 days
Hours of Instruction: 44 hours