Noomii Coach Reviews: The Authority in Online Reputation Management For Coaches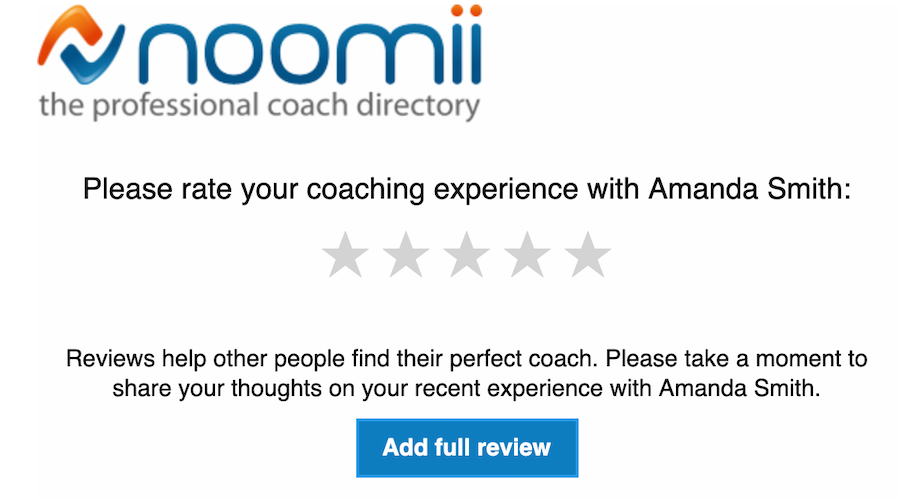 Online shoppers love product reviews but only if the reviews are legit.
To date, the only way for coaches to get reviews on Noomii was to copy and paste testimonials from their personal archives.
Since our goal is to be the most trusted source for coaches online, we are stepping up our game and changing the way we collect reviews. To overhaul the reviews collection system, we are going to roll out features in the following order:
1. Reviews From Former Clients
Starting today, you can no longer copy and paste a review onto your profile. Instead, you need to enter your client's email address and we take care of the rest. We send emails to your clients inviting them to leave you a star rating (out of 5) along with a comment.
Through a double verification process, we manually and automatically vet the reviews to check for authenticity and appropriate language.
2. Reviews From Noomii Leads
Next, we are going to collect reviews from Noomii generated leads. An important distinction that you need to understand is that we are going to collect reviews not just from leads that hire you but from any lead who interacts with you.
For example, if we refer you to a client via the Referral Program, you speak to them for 30 minutes, they have a great experience but they ultimately decide to hire someone else, they will be prompted to leave you a review (hopefully a good one). Similarly, if during the initial interaction, the client has a bad experience, they may leave you a poor review.
What does this mean for Noomii coaches? It means you need to treat every lead like gold. You need to be proactive, act professionally, be on time, and generally treat the client as best as possible.
3. Reviews From the Coaching Circle
We are going to start collecting reviews from participants in the Noomii Coaching Circle. Similar to the reviews from Noomii Leads, Coaching Circle participants will be prompted to submit reviews of their coaches.
We see this as a tremendous value add because many coaches don't treat their Coaching Circle clients with the same level of professionalism they would a paying client. We don't think that's fair and unless you are willing to treat your Coaching Circle clients the way you would paying clients, you should not participate in the Coaching Circle.
4. Reviews Will Affect Your Placement in the Directory
Lastly, once we have collected verified reviews, we will adjust the rankings of coaches listed in the directory. We will reward the coaches that have received positive reviews.
TL:DR
Noomii's goal is to be the most trusted source for coaches on the Internet. To do so, Noomii is going to start collecting verified reviews (with 5-star ratings) from leads and clients.
"Good" coaches (those with higher ratings) will be rewarded by having higher rankings in the Noomii directory.